The World of Alfa Romeo Merchandise
The World of Alfa Romeo Merchandise
Alfa Romeo isn't just a car brand, it's a lifestyle. And from iPhone cases to umbrellas, Alfa Romeo merchandise is just so stylish. So which items are we the most fixated on?
So Much Merchandise 
Did you know?
Alfa Romeo's list of merchandise includes clothing,
collectibles, lifestyle items and more.
Our favorites include the Women's Black Weathertec Full Zip Jacket, Men's Manchester Polo, and Leather Driving Gloves.
Wear the brand! 
Other Alfa Romeo branded collectibles include
the 4C Black Money Clip, Alfa Romeo & Mille Miglia Book,
the Carbon Black Porcelain A.R. Logo Mug, and Black Aluminum Logo Paperweight.
Where is Alfa Romeo Made?
Of course, we're not only enamored with  Alfa Romeo cars and Alfa Romeo merchandise!
The brand also has a world-class production facility that's located in Italy.
It's called the Cassino factory and it's a world-class sustainable plant located
in the Southern part of the country.
What's more, Cassino has been named a World Class Sustainable Plant
thanks to its advanced technologies + processes.
The processes that are in place here ensure the highest standards in efficiency, ergonomics,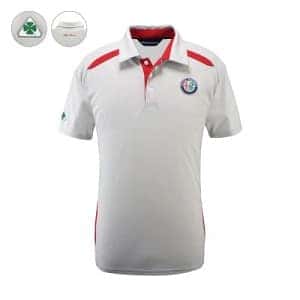 and eco-sustainability—all hot topics!
Alfa Romeo's Cassino Factory Fast Facts
40+ years in operation
A daily production capacity of 1,000 cars
4,300 employees who have a total of 700,000+ hours of classroom and on-the-job training
7 million+ vehicles produced
15 different models produced
2 million m2 total surface area
1,300 robots in body shop
New Alfa Romeo for Sale at Rairdon's of Kirkland
While we love the brand's merchandise and factory, there's nothing like the actual vehicles themselves.
Alfa Romeo cars and SUVs are known for their stylishness + performance.